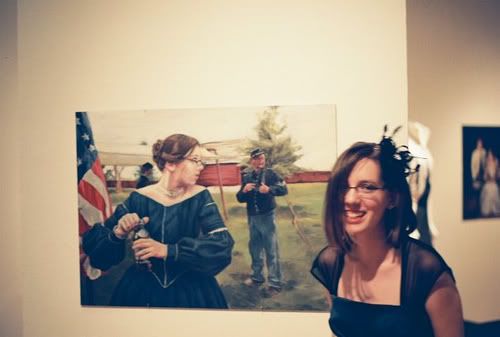 I normally don't like pictures of me laughing, but this one that Tyler took at my show is actually rather good. I'm standing beside the last minute painting I did called "A Farb At Heart". Yep, I take my art very, very seriously.
I put up a whole bunch of pictures of the show on my flickr page
here
, including several of the gallery and my work, and some of us all hanging out after the reception (which Tyler took), and a couple from when we took the show down on Friday. I really like
this one
of Tyler and Mike taken in the arboretum after the reception...
On a different note, I went to lunch with Jill (from the costume shop, not the painting prof) today so that we could talk about my future. She is convinced that I need to go to grad school if I really want to get anywhere as a costume designer. As much as I hate the idea of more school right now, my gut agrees with her. Obviously it's far too late to consider it for this fall (thank god), but as I never ruled out the possibility of grad school, I feel I may come around after a year or so. But if I do go to grad school in the near future, it WON'T be in the midwest... I don't care if Northwestern and Cincinnati are supposed to be somewhere in the top five programs for the field... Illinois and Ohio are OUT.