Am home again from a long weekend at Greenfield Village and have spent the day in a sort of weary daze.
The event was great though!

reine_de_coudre
(Samantha) had came out from California to spend a week and a half here in Michigan, and camped with

dandytailor
(Mike),

rvqavalon
(Katie), and myself. I'm too tired to go into depth right now, but in spite of very hot, humid weather we had loads of fun. Did a lot of sitting in the shade, but also got to see and meet a lot of people, did a bunch of touristy Greenfield Village things (including riding the carousel twice), took part in the fashion show, and danced nearly every dance at the ball.
Due to the awful cold I had a week before the event, I barely got the windowpane dress done in time, and was in fact stitching the trim onto the neck during the drive there. I didn't manage to sew the trim to the sleeves as well, but the dress was wearable and, I thought, rather cute anyway.
New dress!
Wore the windowpane dress on Sat, and the Not-Cold-Mountain dress on Sun. The new apron came in very handy as I actually did a fair amount of the cooking. The weather on Monday turned a bit nasty... hot and rainy with scorching sun and pouring rain by turns, and the hem of my dress (cotton Not-Cold-Mountain) got quite wet and muddy.
I was quite excited to find this picture of myself on flickr that someone must have taken at some point on Sunday. I rarely like how my face looks in photos, but I feel as though this is what I see when I look in the mirror...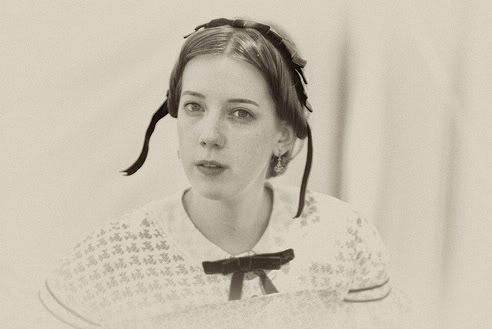 ( I'll let some of my favorite pics from the event speak for themselves... )
( I'll let some of my favorite pics from the event speak for themselves... )

There are a whole lot
more
of pictures on my flickr page
here
.
And yes, both of my 1860s day dresses are made of fabrics with white backgrounds and blue patterns. It's clear where my tastes lie, but I think I'm going to have to change things up a bit for the next dress... although the steel blue wool dress I'm planning still falls into the same color family....