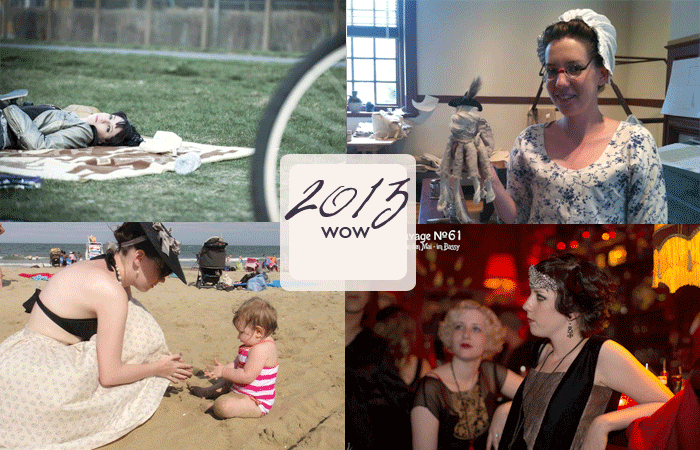 -My 2013 Playlist-
Wake Me Up - Avicii // Runnin' - Adam Lambert // Burn - Ellie Goulding // The One That Got Away - The Civil Wars // How Come You Don't Want Me - Tegen and Sara // Outlaws of Love - Adam Lambert // Shake It Out - Florence + The Machine // Radioactive - Imagine Dragons // Closer - Tegen and Sara // Pompeii - Bastille // Ja - Silbermond // Dust to Dust - The Civil Wars // Devil's Backbone - The Civil Wars // Seven Devils - Florence + The Machine // I Need Your Love - Calvin Harris feat. Ellie Goulding // My Songs Know What You Did In The Dark - Fall Out Boy
(with a side dish of sea shanties and the like: Haul Away Joe // Barrett's Privateers // Old Maui // Fathom the Bowl)
I figure it's close enough to the end of the year to make a reflect-y, summing-up sort of post. Those of you who also follow my blog will have a better idea of the stuff I've been up to and made over the last twelve months, since I've been semi-decent-ish at updating it (as opposed to LJ). In the past, I've done end of year "what I made in 20--" posts, but this year has been a bit different and I feel like the stuff I
made
was purely tangential to what I
did
.
2013 was actually a pretty good year for me, all things considered, and contained quite a few changes with some life-achievement on the side! Things properly started in February when I quit my job at the Costume Design Center. I had applied to grad school and several summer jobs, but had no replies and no guarantees of any income or future when I gave my notice. I sold my car and desktop computer and used all my meager saving to go to Germany. I spent all of March and April and a teeny bit of May there... renting a room in a flat in Berlin and taking twenty hours of language class a week. Berlin rapidly became my favorite city I'd ever been, and when Nicole and I spent a week seeing some of the lovely 'romantic' towns and castles in Bavaria, I just fell further in love with Germany.
But then it was time to go back to Williamsburg, but this time for sometime completely different to my previous first-hand job. Over the course of the summer, I worked as a historical interpreter on the George Washington tent project as well as filling in at the millinery shop when needed. The team of people working on the tent were amazing, and I made some wonderful new friends as well as working alongside some of my best friends who I've known for ages. Also, I feel like I could now sew a hunting-shirt with my eyes shut.
By the end of June I'd still not gotten any reply from grad school and was going out of my mind with nerves when I finally got the email from the University of Edinburgh saying I was accepted to their MFA programme in performance costume. YAY! There was great joy and relief. The summer interpretive gig ended the second week of August, which gave me two weeks to pack and store and get rid of things in order to move overseas. This ended up being way more stressful than I had anticipated, but I got through it and before I knew it I was in Scotland.
Naturally, I am in Scotland still, and just finished up my first semester as a grad student. The past few months I've been pretty wrapped up in research for my project(s), and the research actually took me back to Germany for a week in November. This time to Munich and the surrounding area to study early 19th century traditional Upper Bavarian clothing. I learned a massive amount during that one week, and am really looking forward to applying the research to my work as well as continuing in that line of enquiry.
And of course it's the inter-personal relationships that also hugely figure into the image of a year. Romantically, I didn't have any real relationships, although I did date and/or make out with some lovely people at various points. Considering how transient my existence has been over the course of the year, this is not surprising and I actually feel rather positive about my 2013 experiences. Friendships waxed and waned and actually caused more stress than romantic entanglements, but on the plus side I saw my family several times including my adorable and perfect little niece who is adorable and perfect. And speaking of family, I have two cousins who are studying at the University of Edinburgh as well! It's been lovely getting to know them properly. :)
What with all the hither and yon-ing, I didn't sew much for myself this past year and am actually quite okay with that. And in spite of various moments of fail, I am over-all rather satisfied with 2013. I don't know what 2014 will hold, let alone beyond that point, but I'm hoping I can keep the momentum going...